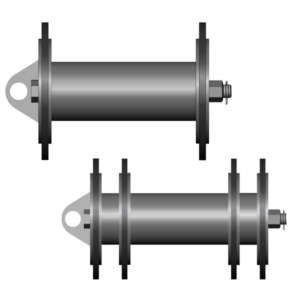 Versatile, economic and efficient. That sums up the MD pigs. Its primary function is to displace water during the hydrostatic testing stage of construction. The operator simply fills the line with liquid, displacing the liquid without removing the pig. With its bi-directional design, it can travel in either direction.
Designed to negotiate 1.5D bends, the MD2 & MD4 pigs move reliably through piping systems.
Features & Benefits:
Every MD Series pig, up to 14", features a through-bolt mandrel design, complete with a pull hook. Typically, the longer the intended pig run is, the more discs are required. For maximum versatility, the pig can be fitted with two or four discs, depending on the application.
To maximize durability, all discs are made from Reliathane, Apache's special blend of wear-resistant polyurethane.
With repeated use, sealing discs can experience wear and tear. The MD pig can still reverse direction without compromising its sealing capabilities.
Standard bumper noses cushion the pig and help to protect in-line auxiliary equipment, preventing damage.
The MD Series is available in either the standard MD2 or the heavy duty MD4 design.