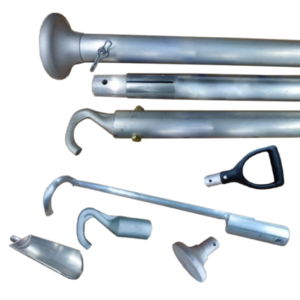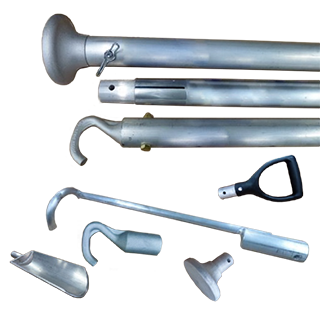 THE ONLY TOOL ON THE MARKET THAT HAS BEEN DESIGNED,
MANUFACTURED, AND TESTED SPECIFICALLY FOR THIS PURPOSE.
The Pigging Poles consist of three sections pinned together for a total length of 18'. One end of the pole
has a four-inch round ram, making it easy to seat the pig, and the other end has a hook for easy pig
retrieval. An optional handle makes handling the pigs even easier. The poles are made of all aluminum, so
they never create sparks. The rams, hooks, and poles are all attached using pins and can be separated
into 6 foot lengths for easy transportation.
STANDARD SET OF PIGGING POLES INCLUDES:
3 x 6′ Poles
3 x Locking Pins
1 x Ram
1 x Aluminum Alloy Hook
HOGGING POLES: For launching & retrieving 24″ and larger pigs
#1 Pole
#2 Pole (extension pole)
Hook (plastic coated steel)
Ram
Push/Pull Adapter
Locking Pin
Dolly (2 wheel)
Custom sizes available upon request.
Features & Benefits:
Manufactured from durable, high strength, non-spark producing aluminum
Limited flexibility ensures hitting the target every time
Drilled with exacting tolerances for a precision fit
Additional pole(s) can be utilized for added length
Wheeled dolly can be used to increase stability
Indexed parts allow the operator to know hook orientation for a trouble-free catch each time
Modular components allow for multiple attachments and special orders
The most durable and safest tool to use in a natural gas environment
Multiple lengths available for different barrel lengths