APACHE PIPELINE'S CARVER DISC ARE NOW AVAILABLE IN 4" – 48" SIZES AND CAN BE INSTALLED ON ANY OF APACHE'S MANDREL STYLE PIGS.
The diagonal grooves provide unmatched cleaning capabilities as the numerous edges scrape the pipe
wall removing wax, scale and other pipeline debris. Similar in design to Apache's Jetted Cup, the cavity
between the carving edges permits bypass and creates turbulent flow which allows fluid to pass along the
wall of the pipe to jet away wax, sand and other debris.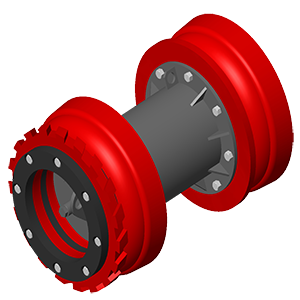 | SIZE | O.D. | I.D. | PART NUMBER |
| --- | --- | --- | --- |
| *UT CARVER not included - see download.* | | | |
| 4" | 4.000 | 0.50 | 91-3230-04 |
| 6" | 6.000 | 1.00 | 91-3230-06 |
| 8" | 8.000 | 1.00 | 91-3230-08 |
| 10" | 10.000 | 1.00 | 91-3230-10 |
| 12" | 12.000 | 1.00 | 91-3230-12 |
| 14" | 13.250 | 1.00 | 91-3230-14 |
| 16" | 15.250 | 8.750 | 91-3230-16 |
| 20" | 19.250 | 10.875 | 91-3230-20 |
| 24" | 23.250 | 14.125 | 91-3230-24 |
| 30" | 29.250 | 16.125 | 91-3230-30 |
| 36" | 35.250 | 22.125 | 91-3230-36 |
| 42" | 41.250 | 24.125 | 91-3230-42 |
| 48" | 47.250 | 32.125 | 91-3230-48 |