Employment Opportunities
At Apache Pipeline Products we believe our organization is an exciting and challenging place to work where people are treated with dignity and respect. Our culture is built on the 3 pillars of our Vision Statement – "People, Partnerships, and Performance". We have a proud tradition of growth and diversification and are committed to continuous change through the development of our employees.
Marketing Coordinator – For All Three Companies (Apache Pipeline Products, GRM Flow Products, Integral Flow Equipment)
Apache Pipeline Products is a leading manufacturer in pipeline cleaning and maintenance equipment for oil, gas and pipeline companies across the Globe.
GRM Flow Products is a premier supplier of high quality parts and service to oilfield supply and service companies worldwide.
Integral Flow Equipment is a manufacturer of high pressure flowline equipment.
Position Summary
To manage the online marketing activities of our three companies. Maintain and expand on current marketing initiatives as company priorities change and evolve.
DUTIES AND RESPONSIBILITIES
Develop and implement marketing strategies and advertising campaigns.
Provides creative concepts to fully developed, print ready artwork.
Ensure brand consistency across all three companies.
Design, update, and maintain catalogues for all three companies.
Strengthen International exposure by creating a reference library for electronic support
See Full Description & Apply On Indeed
Production Manufacturing Specialist
Produce high quality products as a key member of our Urethane production team.
Mix chemicals, use open cast molds and demold production parts.
See Full Description and Apply On Indeed
Production Assistant/ Manufacturing / Warehouse Job Posting (Ongoing) – Both Temporary Summer Position and Full-Time Available 
We are a manufacturing facility close to Sherwood Park just off 17th St. and are looking for the right people in various areas of our plant. We are currently a day shift operation with overtime and advancement opportunities.
Must be physically capable of lifting and handling various weights with good manual dexterity.
Assist in all areas of the plant / warehouse as required.
Will train right individuals.
Must have own transportation..
Apply directly for this position with instructions below.
How to Apply Directly
Employment applications and resumes can be emailed to dwatson@apachepipe.com or faxed to: 780-416-4829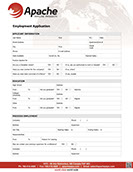 Apache
Employment Application