Employment Opportunities
At Apache Pipeline Products we believe our organization is an exciting and challenging place to work where people are treated with dignity and respect. Our culture is built on the 3 pillars of our Vision Statement – "People, Partnerships, and Performance". We have a proud tradition of growth and diversification and are committed to continuous change through the development of our employees.
Plant Manager
POSITION SUMMARY
Organize and lead our team of plant employees to achieve our company's goals of production, quality, and safety.  The areas of responsibility would cover production in the following departments:  Foam, Urethane, Steel/Assembly, pigPRO, Maintenance, and Receiving. The team you would work with includes Production Specialist, Production Planner, Inventory Personnel, and Lead Hands in various departments.
DUTIES AND RESPONSIBILITIES
Oversee scheduling with assistance from the Production Planner.
Ensure production achieves scheduled output.
Work with Quality Assurance Manager to ensure all levels of quality are met through active involvement in the Quality Management System.
Supervision and coaching of the Production Staff.
Monitor equipment and supervise Maintenance Department.
Initiate/conduct New Hire and Annual employee performance reviews.
Work closely with and coordinate efforts with Inside Sales, Outside Sales, Quality Assurance and Engineering.
Take a leadership role in ensuring that all employees conform to the company Health & Safety program.
To assist in other plant or operational duties as required.
How to Apply
Employment applications and resumes can be emailed to dwatson@apachepipe.com or faxed to: 780-416-4829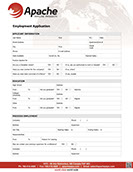 Apache
Employment Application
Junior CAD Technician
POSITION SUMMARY
The CAD Operator assists the Engineer group in creating Detailed machining drawings, Assembly drawings, 3D models, Technical Reports and other documents. They would typically take directions from an Engineer, Engineering in training or Engineering Technologist. The documents created would be approved by a supervisor and be used in fabrication as well as going to customers to provide details of manufactured products.
DUTIES AND RESPONSIBILITIES
Prepare machining, fabrication and assembly drawings of equipment.
Interpret engineering sketches, specifications, or drawings.
Use computer programs (Solid Works) to create 3 D models of parts and assemblies, create 2D detailed manufacturing drawings as well as general configuration drawings.
Assist engineers to design, develop, test, or manufacture industrial machinery, consumer products, or other equipment.
Assist in the design of molds, tools, dies, jigs, or fixtures for use in manufacturing processes.
Inspect, and measure equipment.
Manage design changes including revising models and drawings.
Manage electronic files to keep them updated and current files available to others.
Occasionally assist in shop doing light duty assembly/inspection/manufacturing.
Other tasks as assigned by Manager.
How to Apply
Employment applications and resumes can be emailed to dwatson@apachepipe.com or faxed to: 780-416-4829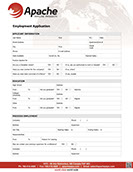 Apache
Employment Application
Production/Manufacturing Specialist 
POSITION SUMMARY
Produce high quality products as a key member of our Urethane and Foam production team.
Mix chemicals, use open cast molds and demold production parts.
DUTIES AND RESPONSIBILITIES
Dispense and pour product to specifications as per the Quality Management System, Standard Operating Procedures or directed by the Production Lead.
Assemble molds, demold product and re-assemble molds once post cure time is met
Prepare, clean, de-bur, maintain, and store molds and materials as directed by Production Lead
Assist loading/unloading ovens as directed by Production Lead or Plant Manager.
Recognize, abide by, and contribute to Company and Health & Safety procedures at all times.
In the event of increased production requirements, be prepared, on occasion, to work overtime.
How to Apply
Employment applications and resumes can be emailed to dwatson@apachepipe.com or faxed to: 780-416-4829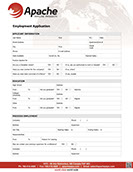 Apache
Employment Application