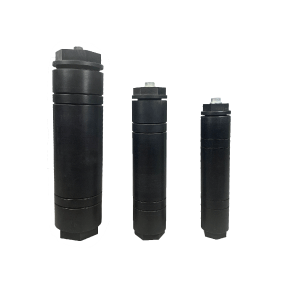 ELECTRONIC TRANSMITTER PROTECTION
Our Delrin Cans feature a threaded cap with hex head and pressure vent. In addition to the pressure vent built
into the cap there is a bleed bolt threaded into the cap designed as the primary pressure relief. Delrin Cans come
standard with grooves to accommodate various sizes of rings for a secure fit in any size transmitter cavity. OD rings
allow the same Delrin/transmitter combination to be quickly and easily modified to fit in a variety of pig and/or cavity
sizes.
FOUR STANDARD SIZES TO FIT MOST CDI TRANSMITTERS:
• 2.0" OD fits CD42-T3, X200-2AA, X100-1N, X100-2N
• 2.5" OD fits CD42-T4, CD42-T0
• 3.0" OD fits X300-2C, CD42-T1A, X300-3C, X300-4C
• 3.5" OD fits X400-3D, X400-3D ATEX
**ID's can be customized upon request to fit all CDI transmitter sizes.
| SIZE | PART NUMBER |
| --- | --- |
| 2.0" Assembly | 95-2010-20 |
| 2.5" Assembly | 95-2010-25 |
| 3.0" Assembly | 95-2010-30 |
| 3.5" Assembly | 95-2010-35 |
Features & Benefits:
Explosive de-compressive O-rings for bleed bolt and cap
Threaded base for securing to various pig cavities
Hexagonal base of canister body allows the operator to easily secure the canister for cap removal