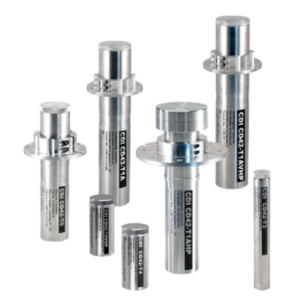 Transmitters operate by emitting electromagnetic fields at a very low frequency (between 15 and 30Hz). This makes CDI's pig tracking transmitters safe and reliable for use in any onshore or offshore environment and any pipeline product (water, oil, gas, ammonia, carbon dioxide, etc.).
Several models have the ability to sit dormant until activated by a pre configured pressure through the use of pressure switches.
Pressure Switch Kits
Available for the following models:
CD42-T4
CD42-T1A
CD42-T1AHP
CD42-T1AVHP
The Pressure Switch Kits are retrofittable caps which fit to CDI's existing line of pipeline pig tracking transmitters and provide them with the capability of being switched ON at customer-defined pipeline pressures. This behavior is useful whenever the precise date of pig deployment is unknown and battery conservation is critical. Power consumption when switched OFF is zero.
| PIPELINE DIAMETER | BATTERY LIFE (HRS) | MAX PSI | MODEL |
| --- | --- | --- | --- |
| 2" - 8" | 200 | 2,500 | CD42-T4 |
| 6" - 12" | 110 - 150 | 2,500 | CD42-T3 |
| 6" - 12" | 168 | 2,500 | CD42-T0 |
| 8" - 28" | 500 - 678 | 2,500 | CD42-T1 |
| 8" - 28" | 500 - 678 | 2,500 | CD42-T1A |
| 8" - 28" | 500 - 678 | 4,000 | CD42-T1AHP |
| 8" - 28" | 500 - 678 | 7,500 | CD42-T1AVHP |
| 30" - 60" | 375 - 500 | 2,500 | CD42-T2 |
| Any | Variable | To 6,000 | Custom |