CD52 – BANDIT
(Non-intrusive Pig Signaler)
CD52 Bandit Non-Intrusive Pig Signaler
with UL/CSA Class 1 Division 1 Hazardous Location Certification
With thousands of systems sold around the world over the past 15 years, the CD52 pig signaler has developed a strong reputation in the industry for its reliability and durability in even the harshest environments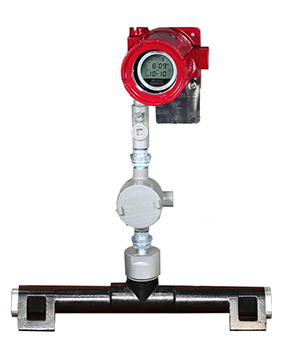 The CD52 Bandit is a non-intrusive pig signaler which uses either permanent magnets or active transmitters mounted onto the pig to detect passage from 0.022 to 45.73 mph (0.01m/s to 20 m/s).
A relay closure on passage allows the Bandit to be interfaced to a wide variety of systems including SCADA, PLC's, lights, horns, etc.
Detection Type:
Non-intrusive, Magnetic
Devices Detected:
CD42 Transmitters or
CD52 Permanent Magnets
Detection Direction:
Bi-Directional
Passage Visual Indicator:
LCD flashes one hour after passage
LCD holds steady for next 11 hours
Auto-Resets at 12 hours
Passage Electrical Indicator:
Isolated Dry Contract Closure
Detection Speed:
0.01 meter/sec to 20 meter/sec
Battery Life:
One full year minimum on tow standard 1.5VDC
D-Cell alkaline batteries
External Power:
24VDC (21.6 to 26.4 VDC Allowable Range
Enclosure:
Aluminum
Window:
Tempered Glass
Completely non-intrusive to the pipeline
Designed for direct burial permanent installation with many standard stalk heights and types
Armored flex cable option available
Every unit is dual rated for ATEX and IECEx for hazardous location
Bi-directional pig detection
Detection of both transmitter and permanent magnet equipped pipeline pigs
Automatic retention of the 10 most recent pig passage times and dates
Powered for one full year with two D-Cell alkaline batteries or permanently powered with 24VDC
Easily bands to pipelines from 2″ to 60″
Works with wall thicknesses of 1.5 inches [38mm] (contact CDI when W.T. greater than 1″ [25.4mm])
Remote Indicator System (RIS):
Provides viewability to a range of 100 meters via 16 super-bright LEDs mounting in the face of the system.
Identification Tags:
Permanent, Engraved 316 Stainless Steel tags affixed to the system.
Sunshade:
316 Stainless Steel sunshade provide basic thermal protection for CD52 enclosures, lowering the operating temperature of the electronics and prolonging their life.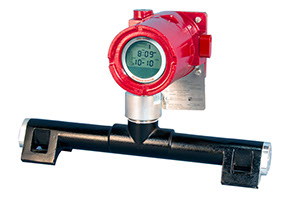 The CD52 Bandit Portable Non-Intrusive Pig Signaler
For over ten years, the CD52 Bandit has meant simple, reliable, and durable pipeline pig passage detection in the world's most demanding environments. Now, the CD52 Portable Bandit offers the added flexibility of quick takedown and relocation wherever/whenever a temporary signaler is needed.
Suspend Mode: a simple pushbutton temporarily suspends Bandit operation for removal and repositioning
Compact & Light: at only 13 in. (330 mm) tall, 21 lb. (9.5 kg), and a lower CG than the our conventional Bandit, the Portable Bandit is easily picked up and secured in its own low-profile carrying case for transport to the next job site
Non-intrusive pig passage detection of any pig moving between 0.01 and 20 meters per second means less maintenance and corrosion
Remote Signalling
Battery Powered
Easily bands to pipelines from 2 in. to 60 in. (50 – 1,524mm) in diameter
Sunshade:
Helps protect the Portable Bandit from intense sunlight by reducing overall temperature inside, thus prolonging the life of the electrical components.
Stainless Steel Antenna & Mounting Plate
Pelican™ Case
CD52 TRIP MAGNETS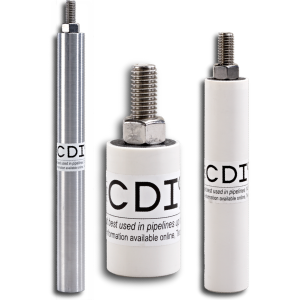 There are three compact and powerful permanent magnets for use with the CD52 Bandit Non-Intrusive Pig Passage Signaler. These magnets may be attached to or placed inside almost any type of pipeline pig and detected at both low and high speeds by the CD52 system.
The CD52-M1 Trip Magnet is a very small and very powerful trip magnet designed to be used with the CD52 Bandit Non-Intrusive Pig Passage Signaler in pipelines 4″ to 12″ to indicate passages to the CD52 Bandit system.

The CD52-M1 is an epoxy-encased magnet with a PVC jacket and a ½-13 UNC mounting stud.

Max Operating Temp: 200 degrees Celsius
Magnet Type: Neodymium
The CD52-M2 Trip Magnet is a small and very powerful trip magnet designed to be used with the CD52 Bandit Non-Intrusive Pig Passage Signaler in pipelines 14″ to 30″ to indicate passages to the CD52 Bandit system.

The CD52-M2 is an epoxy-encased magnet with a PVC jacket and a ½-13 UNC mounting stud.

Max Operating Temp: 200 degrees Celsius
Magnet Type: Neodymium
The CD52-M3 Trip Magnet is a large and very powerful trip magnet designed to be used with the CD52 Bandit Non-Intrusive Pig Passage Signaler in pipelines 32″ to 48″ to indicate passages to the CD52 Bandit system.

The CD52-M3 is an epoxy-encased magnet with a aluminum jacket and a ½-13 UNC mounting stud.

Max Operating Temp: 200 degrees Celsius
Magnet Type: Neodymium