The History of Apache Pipeline Products and GRM Flow Products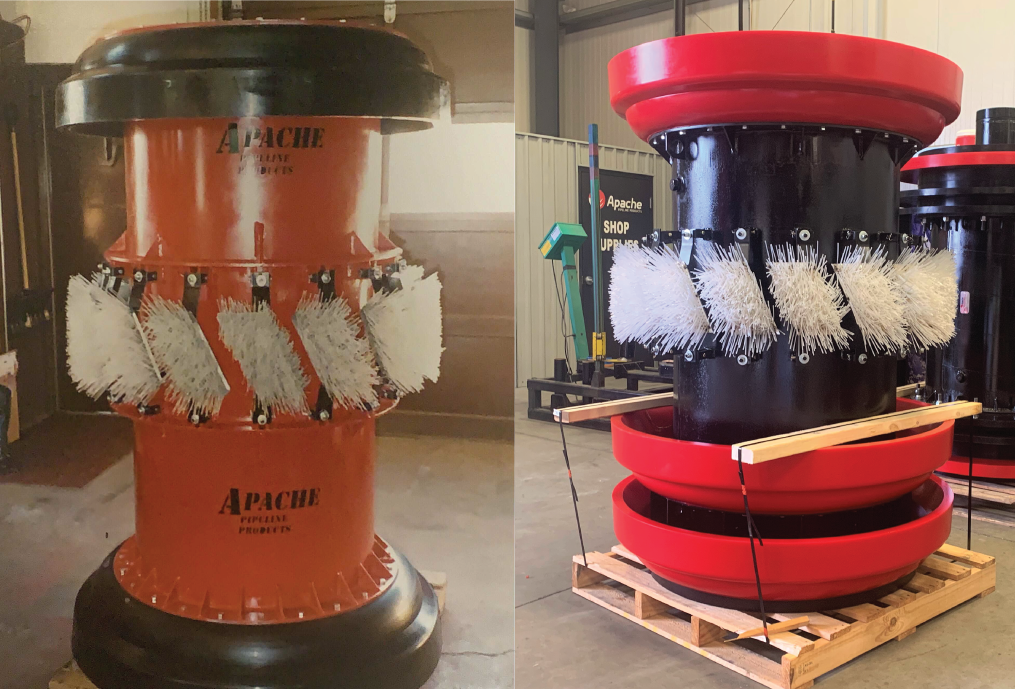 Posted by Apache Pipeline Products on November 4, 2021 in Blog.
The Beginning
It began on November 4th, 1986 in Edmonton, Alberta…
Stu Chase purchased a company called T&A Sales Enterprises 1986 ltd. for $3,150. He couldn't afford rent so the previous owner of the business agreed to let him use the courtesy phone in his reception area as his office. A few months later he rented a 10' x 12' office upstairs for $50 a month. Across the hall was Gary Richard McCaskill of GRM Fluid Controls. Stu and Gary became partners and Stu eventually bought Gary out of GRM in 1987. In 1988, Don McNabb entered into the picture primarily as a salesman and partner in the company. GRM started off by selling oilfield supply and eventually started selling pipeline pigs.
Business Kicks Off
Around 1990, GRM Fluid Controls acquired the bay next door and expanded their operation to 4800 sq ft. The building was shared with Bruin Instruments, T&A Sales, Apache Industries and GRM began selling pipeline cleaning equipment and quickly decided to begin manufacturing. After some exhaustive research and help with friends in the industry, GRM was soon in the business of manufacturing their own pipeline cleaning pigs.
Apache Industries was owned by Doug Cambell, the inventor of the Apache Pig Passage Indicator, which was developed with the help of Horst Gotowik. GRM purchased the patent for the Apache Pig Passage Indicator in 1994 and eventually renamed it pigPRO™. Around this time, GRM divided into two divisions; GRM Fluid Controls, which is now GRM Flow Products, and Apache Pipeline Products.
As business grew, GRM and Apache purchased a 11,000 sqft building on 91st avenue in 1997 and was the Apache and GRM didn't have their rent subsidized by sub-tenants. In 2008, it became apparent that they would need a bigger facility. At the time, there was nothing available to suit the production needs of Apache so Stu purchased 6.7 acres of land with a vision in mind.
Expansion
Stu's plan was to be the general contractor and with the help of his long time friend, Manny Leithoff, they began development of two buildings. Phase one was built in 2009 and comprised ten condominium units totaling 30,000 sqft which were sold off to fund the construction of an identical phase two complex. In November 2011, GRM moved their operation to five bays (15,000 sqft) within the newly constructed phase two while Apache remained at the their 91st street location. The two buildings were named Strata Place North and South, in recognition of Stu's father Frank Chase, the founder of Strata Service Corporation, an innovative, cased hole well logging company.
As business grew, Apache needed more room to manufacture. Stu decided to build a state of the art 36,000 sqft manufacturing facility on the remaining 2.7 acres which was completed in 2014. Apache relocated and its' operations were scaled up through the purchase of an automated mixing machines, energy efficient heating tables and ovens, welding and metal working equipment, four overhead cranes which contributed to advancing Apache's brand in the domestic and international market.
Where We Are Today
Today, Apache and GRM continue to grow its operations. As one of the first Canadian companies to manufacture a full line of pipeline pigs, Apache continues to focus on people, product and performance. GRM focuses on continuously delivering quality flow products and quality customer service.  We are proud of both company's progress and the relationships they have developed along the way and continue to develop as our organization grows.