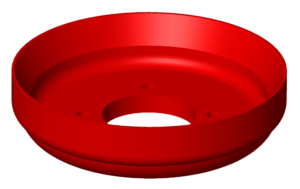 The UT Cup offers the cleaning advantages of a
scraper cup and the flexibility of a conical cup. To
provide a longer cup life, the wear surface of the
cup is three times larger than any other UT-style
cup on the market. The pressure of the pipeline
product presses the cutting edge firmly against the
pipe wall, ensuring an optimum seal. The flex area
between the shank and the cleaning surface allows
the cup to traverse reductions in the pipe bore
caused by buckling of, or anomalies in, the pipeline.
| SIZE | I.D. | WEIGHT | PART NUMBER |
| --- | --- | --- | --- |
| 6" | 2.500 | 0.8 | 91-4015-06 |
| 8" | 3.000 | 1.8 | 91-4015-08 |
| 10" | 3.625 | 3.0 | 91-4015-10 |
| 12" | 4.625 | 5.4 | 91-4015-12 |
| 14" | 4.625 | 8.0 | 91-4015-14 |