BLOCK BRUSH – INTEGRITY XB (20-56″)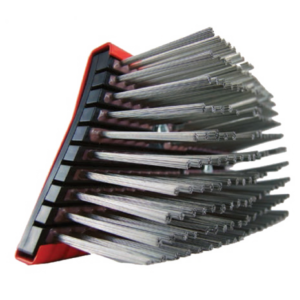 Apache designed the Integrity XB specifically to help operators thoroughly clean any internal pits in
preparation for ILI runs or Inhibitor applications.
Also proven as a proficient and aggressive cleaning tool for day to day operations, it utilizes unique
Pencil Brush Technology. Each brush features stiff 22 gauge memory wire bristles at the front for heavy
scraping and longer, flexible 25 gauge bristles at the rear for deep cleaning. High grade tinned hardened &
tempered steel memory wire provide excellent cleaning performance & corrosion resistance.
| SIZE | PART NUMBER |
| --- | --- |
| 20" - 56" | 94-0419-50 |
Features & Benefits:
360° coverage of rebound memory wire.
For use in 20" through 56" pipelines.
Premier brush for pre-inspection cleaning and inhibitor applications.
Each brush uses more than 7,000 hardened, tempered steel wires to deliver outstanding cleaning performance.
To enhance cleaning effectiveness and brush life, all parts are corrosion resistant. The back plate is powder coated, every individual steel wire is tin-coated, and the base consists of high-grade urethane.
Designed to remove deposits from internal pits while insuring excellent general purpose cleaning.
Pit cleaning bristles improve effectiveness of corrosion inhibitors.
Options Available:
Trim Material – Carbon Steel or Stainless Steel.
Custom trim lengths and diameters are available.
XB fitted to a fixed spring assembly.
XB fitted to a cantilever-style spring, wearcompensating assembly.
The innovative, Integrity XB is truly unique. If you would like us to provide a customized Integrity XB brush for you, just let us know.