OTHER
EQUIPMENT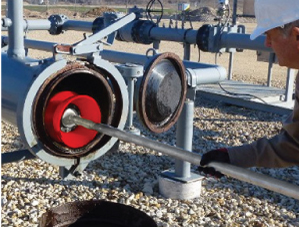 PIGGING POLES
The only patented pigging poles in the industry and the only tool on the market that has been designed, manufactured, and tested specifically for this purpose.The Pigging Poles consist of three sections pinned together for a total length of 18′. One end of the pole has a four-inch round ram, making it easy to seat the pig, and the other end has a hook for easy pig retrieval. An optional handle makes handling the pigs even easier. The poles are made of all aluminum, so they never create sparks. The rams, hooks, and poles are all attached using pins and can be separated into 6 foot lengths for easy transportation.
Manufactured from durable, high strength, non-spark producing aluminum
Limited flexibility ensures hitting the target every time
Drilled with exacting tolerances for a precision fit
Indexed parts allow the operator to know hook orientation for a trouble-free catch each time
Modular components allow for multiple attachments and special orders
The most durable and safest tool to use in a natural gas environment
Multiple lengths available for different barrel lengths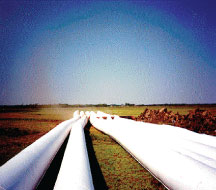 ENVIRONMENTAL CONTAINMENT BAGS
Environmental Containment Bags eliminate environmental pollution arising from pigging a pipeline with air or nitrogen by trapping and containing dust particles as small as five microns, along with mill scale and construction debris. The heavy-duty polyester bag is secured around the discharge pipe with a drawstring type closure.Operation is continuous and no change in standard pigging practice is required. Reinforced pulling and lifting handles facilitate positioning and subsequent emptying of the bag into the bed of dump trucks or other type containers for disposal. They can also double as a pig catching bag.
| | | |
| --- | --- | --- |
| 12″ x 10′ | 19″ x 6″ x 5″ | 3 lbs |
| 12″ x 25′ | 19″ x 9″ x 8″ | 8 lbs |
| 12″ x 50′ | 20″ x 14″ x 11″ | 17 lbs |
| 24″ x 50′ | 39″ x 14″ x 10″ | 35 lbs |
| 48″ x 50′ | 81″ x 13″ x 12″ | 68 lbs |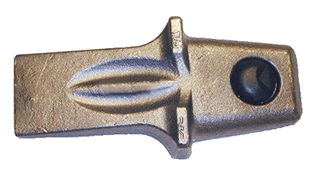 909 AUGER TEETH
Apache's 909 Auger/Trencher teeth are forged and heat treated to ensure lasting durability. Raised shoulders help to protect pockets and the retainer plug installed in the cavity will insure against loss of teeth. Ditching jobs become easier and more efficient with an accurate design for a proper attack angle on trencher buckets.
Lasting Durability
Maximum Wear Resistance
High Impact Strength